Tours at OTEC Okinawa
The OTEC Okinawa facility is primarily a research facility, though it is also possible to tour when our operation and maintenance schedules permit. Over the past few years, thousands have visited to learn more about clean energy, ocean energy, deep seawater, and the OTEC facility. Visitors can learn about current and future OTEC projects, the properties and use of deep seawater, OTEC economics, OTEC basics and far more.
In order to match the varied interests our visitors have, we can provide a flexible variety of tours. Tours are generally available Monday through Friday 9am to 5pm. Please make a reservation. We may also be able to accommodate special requests for weekend or after-hours tours.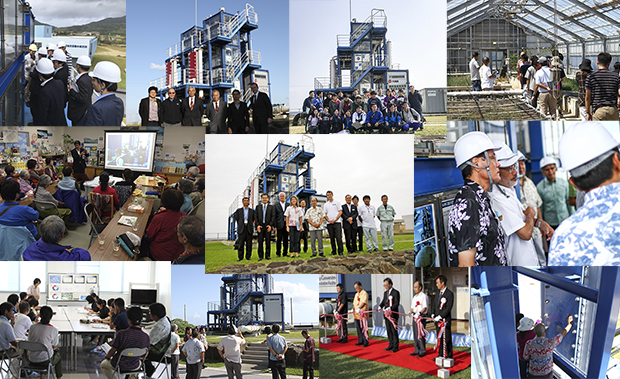 Quick Tour
For visitors interested in a quick look at the facility, we can provide a brief introduction and walkthrough in roughly 15 minutes. The scope of information provided is limited. If you are interested in touring the Deep Seawater Research Center grounds as well, we can provide a brief introduction within about 30 minutes.
This tour is suggested for tourists with limited time.
Standard Tour
Our standard tour consists of a 30 minute presentation within the Okinawa Prefecture Research Center followed by a roughly 30 minute tour of the OTEC Facility, IOES Satellite, and Research Center Grounds. This option gives visitors a good background on all the facilities with plenty of time for questions. It's also a good option for days with inclement weather.
This tour can also be customized to your schedule, allowing more or less time for details and questions depending on your interest.
This tour is suggested for the majority of our guests, including government officials, interested businesses, and tourists.
Student Tour
Similar to the Standard Tour, our Student Tour is optimized for younger students and can be further optimized to fit subjects currently taught in the classroom such as power generation or renewable energy.
Technical Tour
For those visitors in related industries we can provide more in-depth information on current OTEC development and the experiments being conducted on Kume Island. Please note that our Engineers are not always available for tours, so we request you let us know in advance if you are interested in the technical aspects of the OTEC project.
Facilities Available to Tour
OTEC Okinawa - Okinawa's 100kw-class OTEC Facility

IOES Satellite - Desalinated water and Hydrogen from Flash Evaporation

Okinawa Deep Seawater Research Center - Japan's largest capacity DSW research center.

Other DSW Industries - There are many companies utilizing deep seawater in a variety of projects. We can help English-speaking visitors make appointments to see related facilities.