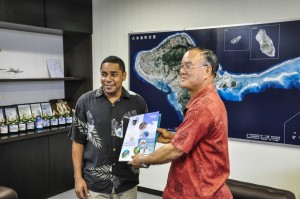 This past week a delegation from the Netherlands and Colombia came to Kume Island to see first hand the various industries that can partner with OTEC. Since the only byproduct from Ocean Thermal Energy Conversion is sea water, it makes sense to take advantage of this important resource.
In addition to the two delegates from Colombia, VP of Business Development for Bluerise, a researcher at Wageningen University, and a representative of the Netherlands Embassy in Japan came to visit. Bluerise, a Netherlands company with close ties to Delft University of Technology is developing several OTEC projects. They are especially involved in the Caribbean, where water and power are scarce and expensive to produce conventionally.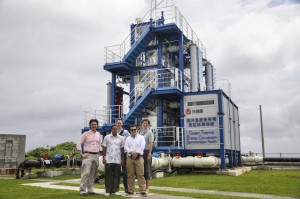 In order to learn about some of the possible industries that can be developed with Deep Sea Water, the group toured most of the DSW industries here as well as OTEC Okinawa and Okinawa Deep Sea Water Research Institute. Since the delegation stayed for several days they had a chance to tour a majority of the local industries. One of the delegates from Colombia, a representative of the Governor of San Andres, enjoyed his first international trip on Kume Island. The other delegate was part of the research group from the National University of Colombia working with Bluerise to bring OTEC to Colombia.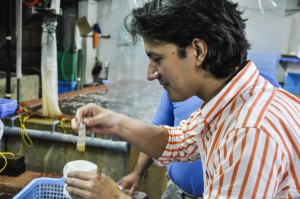 Some of the highlights of the trip included a chance to try raw Kuruma Prawns at Epoch Prawn Farm. The baby prawns are brought up in Deep Sea Water to keep them virus free before being transferred to larger farms. Kuruma Prawns are prized around Japan for their great taste and freshness, but are best when you can get them right out of the water.
Our visitors also had a chance to tour Water One, a branch of the larger Water One company in mainland Japan providing water from Mt. Fuji. This year-old company processes deep sea water into delicious drinking water that is delivered to homes in 12ltr bottles for home dispensers. Since the future of the Mt. Fuji supply is uncertain with the possibility of a volcanic eruption, the Kume Island company also acts as a backup water source, one which has a vastly larger potential supply.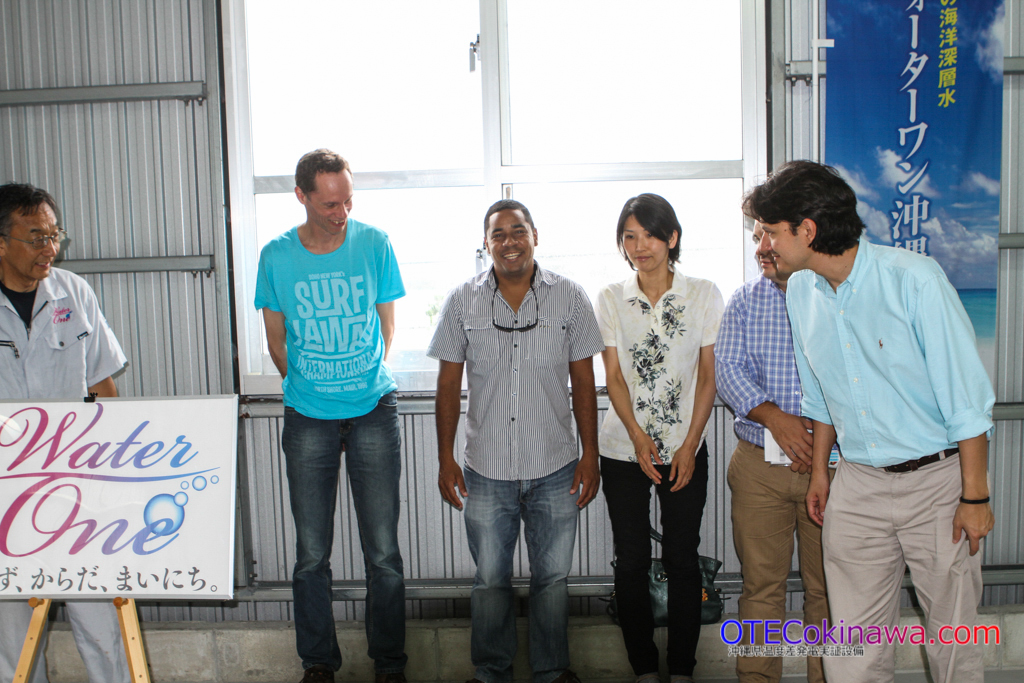 Visitors from outside of Japan can visit our OTEC and DSW facilities with English or Japanese speaking guides. As a model for future OTEC compatible systems it can be an interesting and informative experience for those thinking about sustainable clean  power and industry for the future.
Current Industry Tours can include:
Plus, all of the great scenic and cultural sights on the island. We look forward to seeing you.
Note, all photos not including an OTEC Okinawa watermark are courtesy of Diego Acevedo at Bluerise. Used with permission.
コロンビア、オランダからのお客様
先週、遠く南米のコロンビア、そしてオランダから、海洋温度差発電実証設備の視察のため、お客様が訪れました。
コロンビア大学の研究者、コロンビアの離島サンアンドレス島の政府関係者、オランダ王国からは大使館の経済部参事官、ワーゲニンゲン大学の研究者、そして海洋温度差発電を研究開発している企業Blueriseの合計5名です。
視察の御一行は、発電だけでなく久米島の海洋深層水を利用する産業について学ぶため、海ブドウ、クルマエビの養殖場、深層水温浴施設バーデハウス、化粧品や飲料水メーカーを訪れました。
暖かいカリブ海に浮かぶサンアンドレス島と久米島の共通点は多く、自給自足が可能なクリーンエネルギー―海洋温度差発電と、くみ上げた海水を産業へと利用する組み合わせは、興味深く魅力的に映ったようでした。