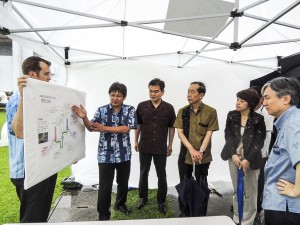 2015年5月23日、山口俊一大臣(沖縄及び北方対策、科学技術政策等)が、多忙なスケジュールの中、海洋温度差発電実証設備等の海洋深層水産業を視察するため、久米島を訪問しました。
その日は雨風が強く、あいにくの天候でしたが、海洋深層水を活用するクルマエビや海ブドウの養殖場、化粧品製造工場、OTECの実証設備等島内の数か所を視察されました。発電設備の前では、OTECの研究開発に長年取り組んでいる佐賀大学の池上教授が発電のしくみ等を説明しました。
Cabinet Level Visit to Kumejima's OTEC Facility
On May 23, 2015 Minister Yamaguchi (Minister of State for Okinawa and Northern Territories Affairs) visited Kumejima to visit local deep seawater industries including the Ocean Thermal Energy Conversion Demonstration Facility here. With his busy schedule, his visit was necessarily brief, however, he was able to see the OTEC facility and industries such as Kuruma Prawn Fisheries and Sea Grape farming. Minister Yamaguchi braved unusually strong winds and rain to get an up-close view of the OTEC facility with explanations from engineers and Dr. Yasuyuki Ikegami from Saga University's Institute of Ocean Energy.
Most renewable energies require large capital investments that are offset by future running cost and maintenance savings. In the development phase, initial capital costs are nearly impossible for private companies to front on their own. Support from local, state, and national government agencies are critical to developing clean energy for the future. With high level interest in OTEC and their related industries, Japan can continue to develop this interesting and potentially critical technology for the future.
スライドショーには JavaScript が必要です。
Credit: Top photo courtesy of Mr. Kanai, others courtesy of Saga University.