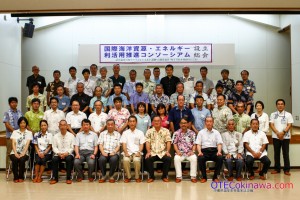 July 21, 2014 was a Japanese National Holiday, namely Marine Day, a holiday to give thanks for the ocean's bounty and consider the importance of such resources to the island nation¹. This year, a group of Japanese Universities, Businesses, and other interested parties joined together to form the "Global Ocean reSource and Energy Association" or GO SEA (note: the official English name is still tentative).
The founder of this group, Kume Island's Mayor Haruo Ota writes,
Until now, deep seawater use has been separate by industry. Remote island economies need a more comprehensive solution. The "Kume Island Model" is a progressive approach in combining energy, local food production, new industries, and efficient use of deep seawater resources in an environmentally friendly, self-sustaining, and economically beneficial way as a demonstration for domestic and international development.
For the past fourteen years the Okinawa Deep Seawater Research Institute has been researching Deep Sea Water Utilization. This past year, Okinawa prefecture also began operation of our 50kw OTEC demonstration facility. The combination of these two fields, along with plans for future integration is an essential part of the "Kume Island Model."
With the selection of Kume Island as a Ocean Research Area earlier this month, Mayor Ota and  supporting parties saw a need to create a group capable of integrating the various interests in to an association that can promote and enable the effective and efficient use of this important natural resource.
Association Initialization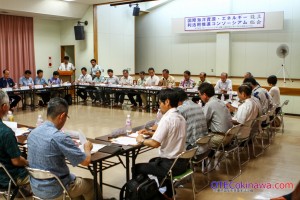 Inviting more than 50 groups, Kumejima Town hosted a meeting and seminar to discuss and formalize the creation of this new organization. Participants were presented with aspects of the charter, given time to ask questions, then members voted by acclamation. Since invitees were presented with the major key elements prior to arrival, many had a clear understanding of the association's goals.
Key participants include representatives from Tokyo University, Saga University, Ryukyu University, the Okinawa Institute of Science and Technology Graduate School, Okinawa Prefecture, Kume Island Town, local industries, and several observers including Government representatives and the Naha Branch of the US Embassy. While the group has started domestically, the goal is to create a truly international group capable of moving Ocean Energy (such as OTEC) and Resource Utilization forward.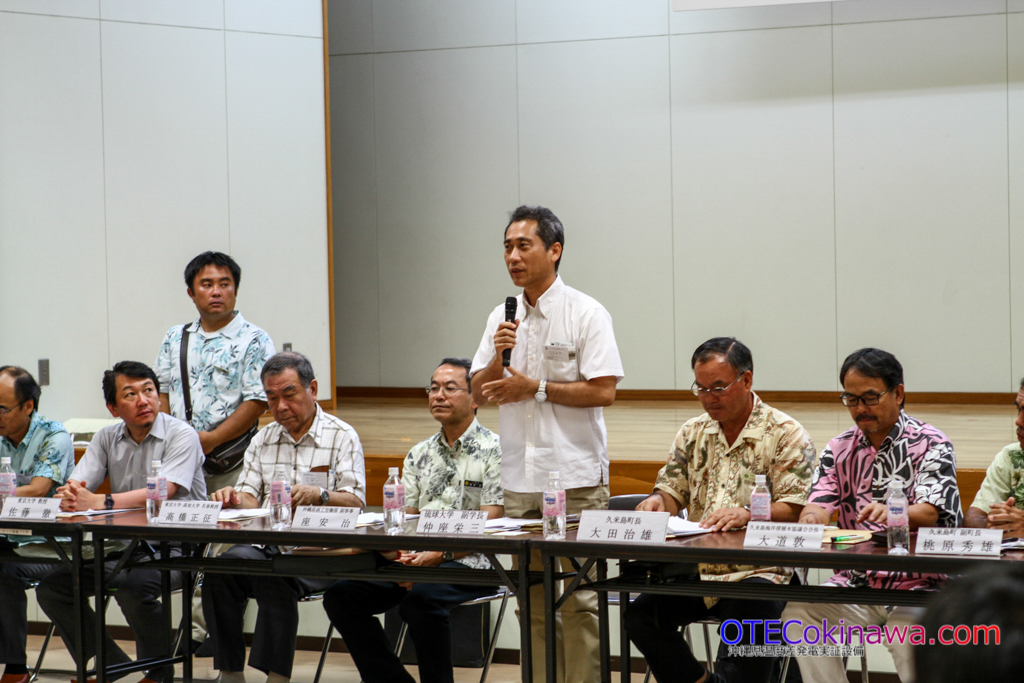 After the basic Charter was approved by all parties, Professor Emeritus of Tokyo University and President of the Deep Ocean Water Applications Society Masayuki Takahashi presented on the state of Deep Ocean Water Use in Japan, providing all members with a history of OTEC and Deep Sea Water use around the world.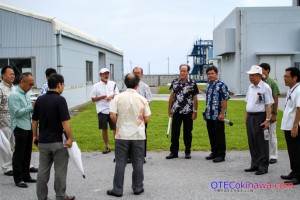 Members who had yet to see OTEC and Kume Island's Deep Seawater industries in action had the opportunity to tour our facilities Tuesday morning.
Going Forward
The initial goal of the Group is the creation of an Ocean Energy Research Institute on Kume Island. Funding and constructing the facilities will give researchers access to both the Deep Sea Water and OTEC technologies needed to pave the way towards realization of the Kume Island Model.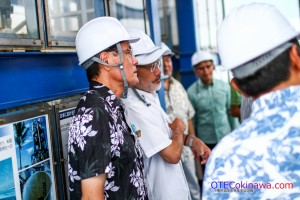 While this group has begun domestically in Japan, participants plan to extend invitations to other interested parties around the world. Creating an efficient and practical OTEC model that can be adjusted and studied for specific locations should provide all countries with positive economic and social benefits. Since OTEC and Deep Seawater Use require a significant capital investment for practical research, allowing multiple interests to study the effects of different projects in a set location should reduce the costs and risk of future systems. With it's years of experience and existing industries ready to expand, Kume Island is uniquely poised for expanded practical research and applications.
OTEC Okinawa looks forward to working with the amazing researchers and business to make OTEC a reality around the world.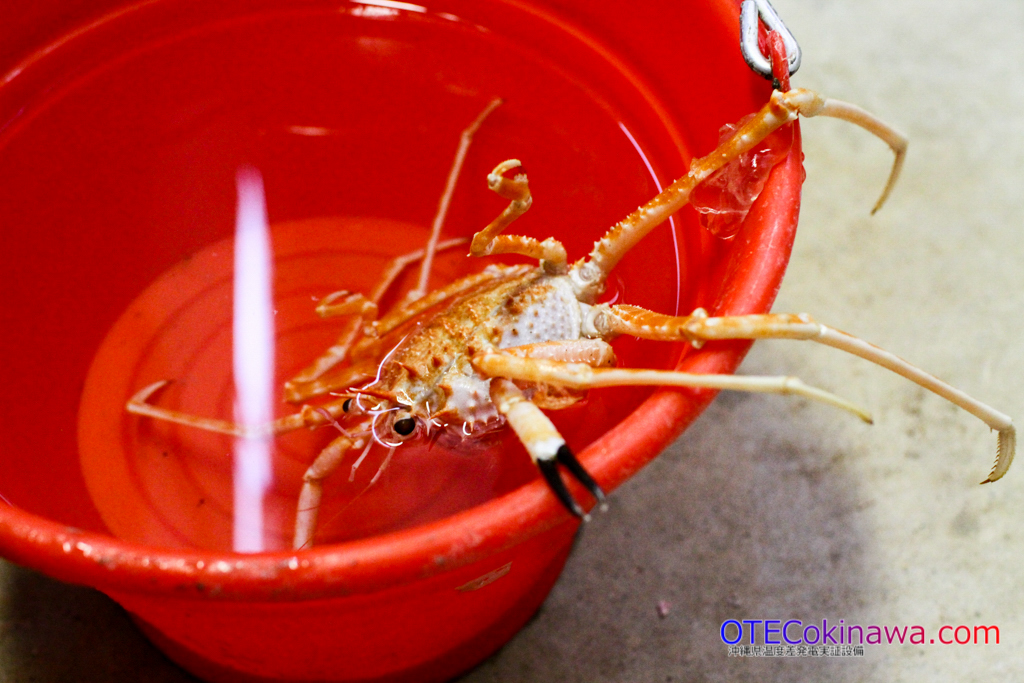 国際海洋資源・エネルギー利活用推進コンソーシアム設立
平成26年7月21日の「海の日」に、ここ沖縄県久米島町において、国際海洋資源・エネルギー利活用推進コンソーシアムの設立総会及び第1回会議が開催されました。公休日である海の日は、「海の恩恵に感謝するとともに、海洋国日本の繁栄を願う」ことを趣旨としていることから、本コンソーシアム設立にふさわしい日となりました。
久米島町では、平成23年3月に総務省の「緑の分権改革推進事業」を活用した「久米島海洋深層水複合利用基本調査 調査報告書(ダウンロード可)」をまとめており、その中で海洋深層水が久米島において年間20億円の産業になっていることが報告され、さらに深層水を水産、農業、冷房、発電など複合的に利用し、エネルギー自給と産業の自立型コミュニティのモデルとする「久米島モデル」を提案しています。
今後この久米島モデルを進めることにより、新産業による雇用創出効果はもちろんのこと、食糧・エネルギー分野での地産地消、環境に配慮した循環型社会、自立した離島経済及び次世代型海洋深層水複合利用へとつながり、さらにはそれをモデルとして沖縄、日本国内だけでなく「食糧・水・エネルギーの自給率向上」の課題を抱える海外へ展開することで、国際技術協力及び日本の技術立国としての地位に貢献していくことが期待されています。
先のブログ(平成25年11月19日、平成26年4月25日投稿)でもお伝えしてきましたが、久米島町ではこれまで海洋深層水の高度利用化(産業、サービス、エネルギーなど)に向けて、産学官関係者の会議を重ねてきました。また、先月には、国の海洋再生可能エネルギーの実証フィールドに、海洋温度差発電としては久米島町が選定されたことにより(平成26年7月9日投稿)、その機運はますます高まっていました。
そして今回、久米島の実績を踏まえて産・学・官・金が連携して海洋深層水の高度利用を研究開発し、「久米島モデル」を今後国内外に提唱して進めていくことを目的に、コンソーシアムの設立の運びとなりました。総会当日は、大学関係、官公庁関係、民間企業など20以上の関係団体、50人以上が集まり、海洋深層水利用学会の高橋正征会長を講師に招き、会長には大田治雄久米島町長、副会長には琉球大学の仲座栄三副学長と久米島海洋深層水協議会の大道敦会長が選任されました。
久米島モデルの事業化に向けては、事業計画やロードマップの作成、部会の設置、研究拠点となる「国際海洋資源・エネルギー研究開発センター」の設置が議案にのぼりました。本研究開発センターは、海洋深層水に関する研究段階から実用化段階まで、多岐にわたる研究開発テーマに取り組み、研究受入のほか、インキュベーションラボ、ショールーム、国際的な人材育成・教育・普及用の施設としての目的も併せ持つ設備として検討されています。
新たな一歩を踏み出した沖縄県久米島町の海洋深層水複合利用。私たちはこのコンソーシアムの発展と久米島モデルの実現のために、順調な運営をサポートし、これからもその動きに密着して情報をお伝えしていきたいと思います。
※真ん中の写真は、総会の翌日に行われた会議出席者の沖縄県海洋深層水研究所および海洋温度差発電実証設備の視察風景です。一番下の写真は、深海(-612m)から上がってきたオオホモラという珍しいカニの仲間です。