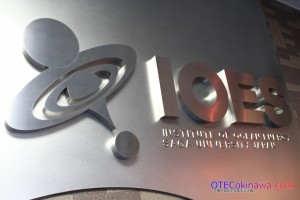 OTEC Okinawa is the culmination of years of hard work and study in Japan. Though OTEC is not a new idea, as the only fully operational OTEC facility it is the leader in this new wave to harness power from the world's oceans. Yet it is a Project That IS only Possible Due to the Continued work at Saga University's Institute of Ocean Energy .
The Institute is housed at a satellite location along Imari bay in Saga Prefecture. In January, we visited IOES to learn more about the design and advisory arm of this project, and about OTEC development in general.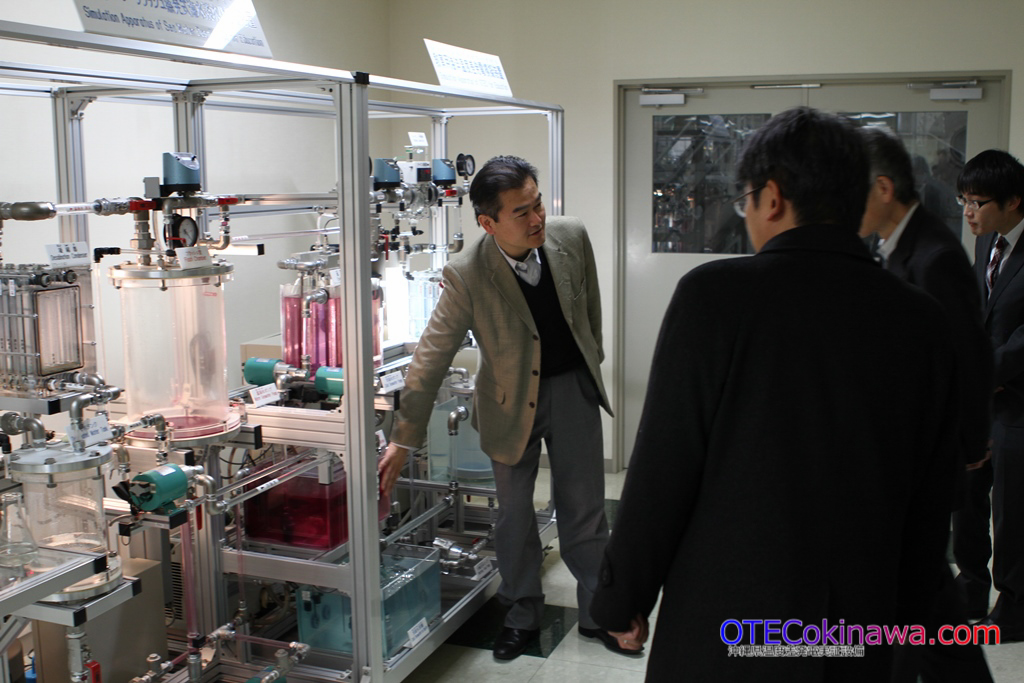 At IOES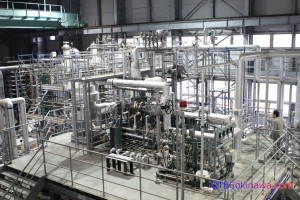 The Institute of Ocean Energy is a large complex hosting a variety of labs and projects. Many of the projects revolve around OTEC as the lead researchers work to increase the efficiency in every aspect of the OTEC system. To this end, the facility has a 30kw OTEC system in place. Of course, since the facility doesn't have ready access to deep sea water the sea water used for experiments must be controlled externally. This allows researchers to test various equipment in a controlled environment before being placed out in the field.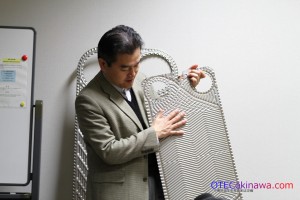 IOES and Professor Ikegami in particular have focused on increasing the efficiency and reliability of heat exchangers in OTEC systems, testing various offerings from numerous companies. Now working closely with Xenesys Inc, they have put working designs into practice at OTEC Okinawa. Heat Exchangers can account for 1/4 the cost of a OTEC facility so finding the most efficient design is critical to the entire OTEC project. Many countries continue to develop heat exchange technology including projects taking place with our friends at NELHA.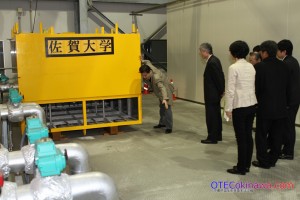 In addition to the OTEC laboratory, IEOS contains several other ocean energy laboratories including the production of exciting new wave power technology that has been tested on small scales and is being scaled up to full size.
IOES also includes a Lithium Extraction Lab, Heat Exchanger Lab, Layered Ocean Flow Lab, Lecture Halls, and other research areas. If you're interested in learning more about OTEC or clean energy research, it is definitely worth the visit.
About Visiting IOES
IOES Accepts Visitors from two o'clock to 4:00 on Wednesday and Thursday excepting National Holidays. To make an appointment email IOES .
佐賀大学海洋エネルギー研究センター(IOES)
佐賀大学の海洋エネルギー研究センターでは、海洋エネルギーの創造及びその利用などに関する研究・教育・開発を行っています。副センター長の池上教授は、長年海洋温度差発電関連の研究に取り組んでおり、熱交換器の性能、海水淡水化、燃料電池、海水からのリチウム回収、水素製造などに関する実験、海外への技術提供等国際貢献を行っています。
今回、池上教授が忙しいスケジュールの合間を縫って、センター内の案内と研究内容の説明をしていただきました。2枚目の写真は、海洋温度差発電の模擬装置で、発電のしくみがとてもよく分かりました。3枚目の写真は、海洋温度差発電の実験装置です。その巨大な迫力から、これまで長年海洋温度差発電の研究に取り組み、世界をリードする技術に育て上げた同大学の上原元教授、池上教授の情熱が伝わってくるようでした。
同センターでは、海洋温度差発電のほかにも、波力発電、潮流発電などの研究も行っています。世界にも有数の充実した設備で、海洋エネルギーに関する様々な研究テーマに取り組んでいるということが分かりました。再生可能エネルギーとして、今後ますます重要な役割が期待される海洋エネルギー。周囲を海で囲まれている日本だからこそ、これからも世界に先駆けて研究をリードしてほしいと強く感じました。